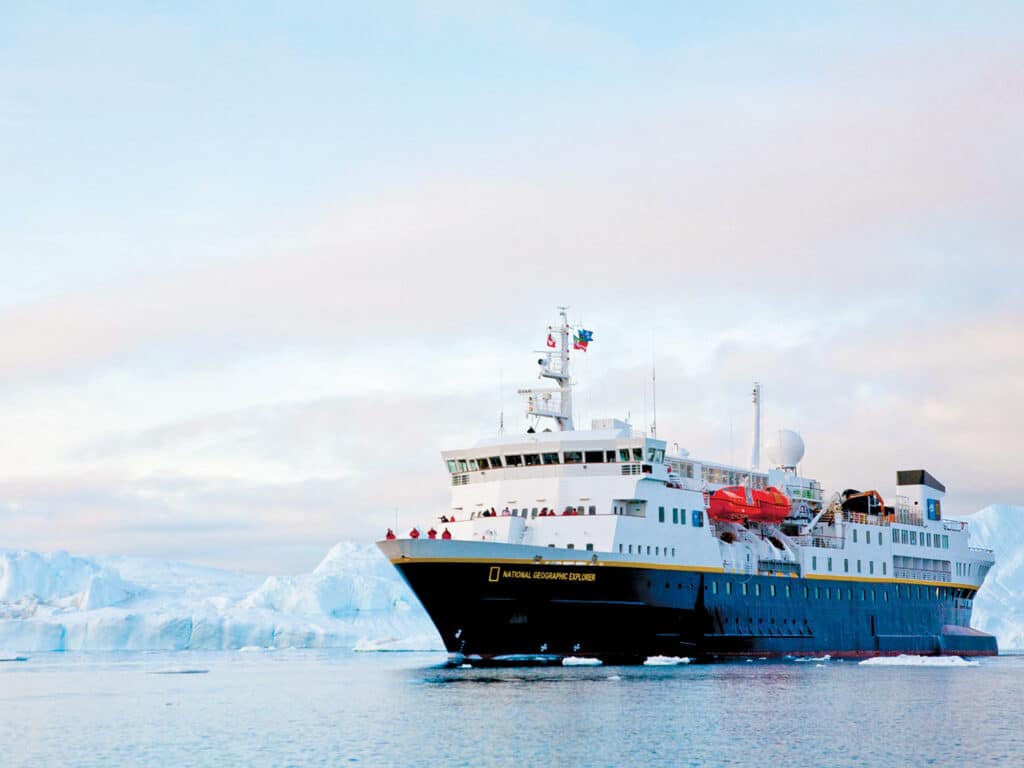 Lindblad Expeditions
For many travelers, visiting all 7 continents is a monumental goal. Even if you're generally not a cold weather vacationer, having the opportunity to get to Antarctica is something special. Fortunately, there is a variety of options to suit a range of budgets, athletic levels, and excursion preferences.
For many, including myself, touching foot on land is something that's worth every penny, making the trip through the Drake Passage to get to Antarctica well worth it. Lindblad Expeditions on the National Geographic Explorer will give travelers an incredible experience on land, in addition to keeping their guests comfortable on board in between adventures.
The Ship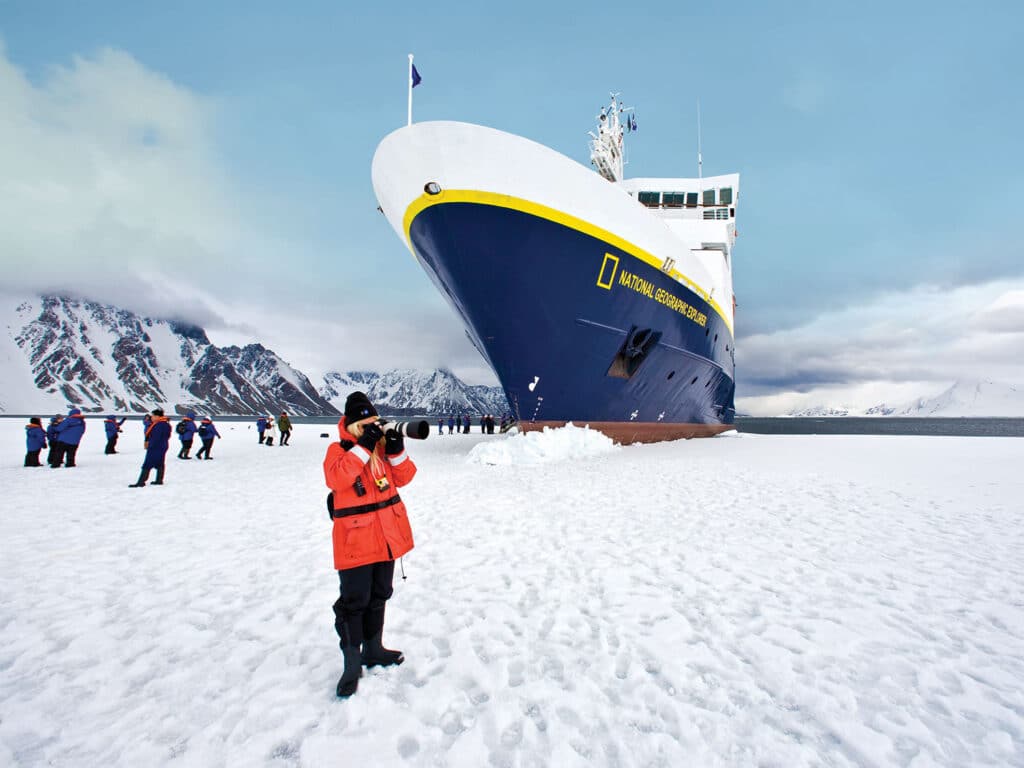 Michael S. Nolan/Lindblad Expeditions
The National Geographic Explorer was created to stand up against polar regions and large waves encountered along the Drake Passage. Built to charge through ice and fully stabilized to keep guests comfortable in harsh conditions, the vessel boasts cabins of decent size with single, double, and triple accommodations. All feature windows or portholes, while some even have spacious balconies.
There are quite a few common areas on the boat, including bars, a B&H photo locker, mud room to stash expedition necessities and equipment, and an observation lounge to look for wildlife. The boat is staffed with an undersea specialist, a National Geographic Photographer, medical professional, and Lindblad-National Geographic certified photo instructor to help enhance the experience. The dining onboard leans casual. Guests can choose to eat at the Bistro Bar, the main Dining Room (a bit more formal), or the Observation Lounge. (The staff is happy to accommodate any special dietary needs as well.)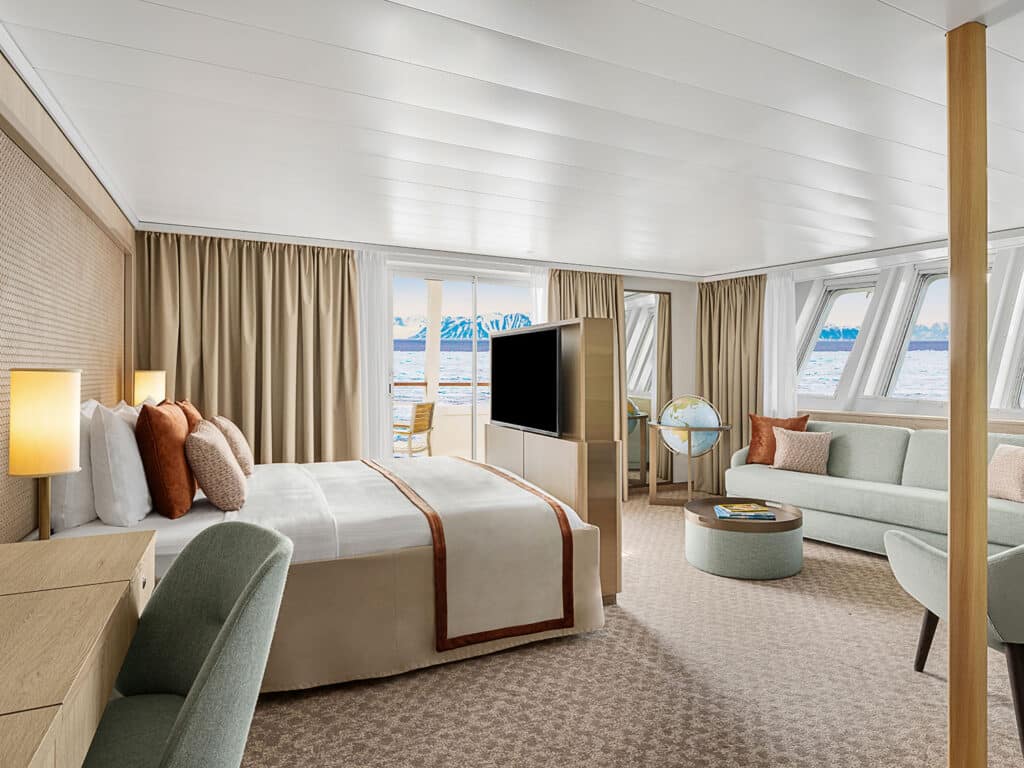 Lindblad Expeditions
While spending time on the ship or in the morning before excursions, get ready for the outdoor adventures with a workout in the fitness center. If you're looking for something a bit more relaxing, you can book a spa treatment like a deep tissue massage with a specialist or escape the cold temps outside by spending time in the spa's steam room or sauna.
The boat is equipped with a variety of tools used for the expeditions, including a Zodiac, specialty and video cameras, and kayaks. Trips on land range depending on athletic level, and there is often an excursion specifically for photography lovers. Safe wildlife encounters are always the goal when heading onto land. Even while on board, there are regular lectures with a big focus on wildlife, in addition to topics like climate change or going over what the expedition groups experienced that day.
When heading to Antarctica in February, the weather is not too harsh, usually hovering around the mid 30s Fahrenheit. This is a great time of year to possibly spot fluffy penguin chicks, in addition to a variety of whales like orcas and humpbacks. While exploring the Antarctic Peninsula, full of glaciers and icebergs, look for Chinstrap, Adélie, and Gentoo penguins in, and out of the water.
The Itinerary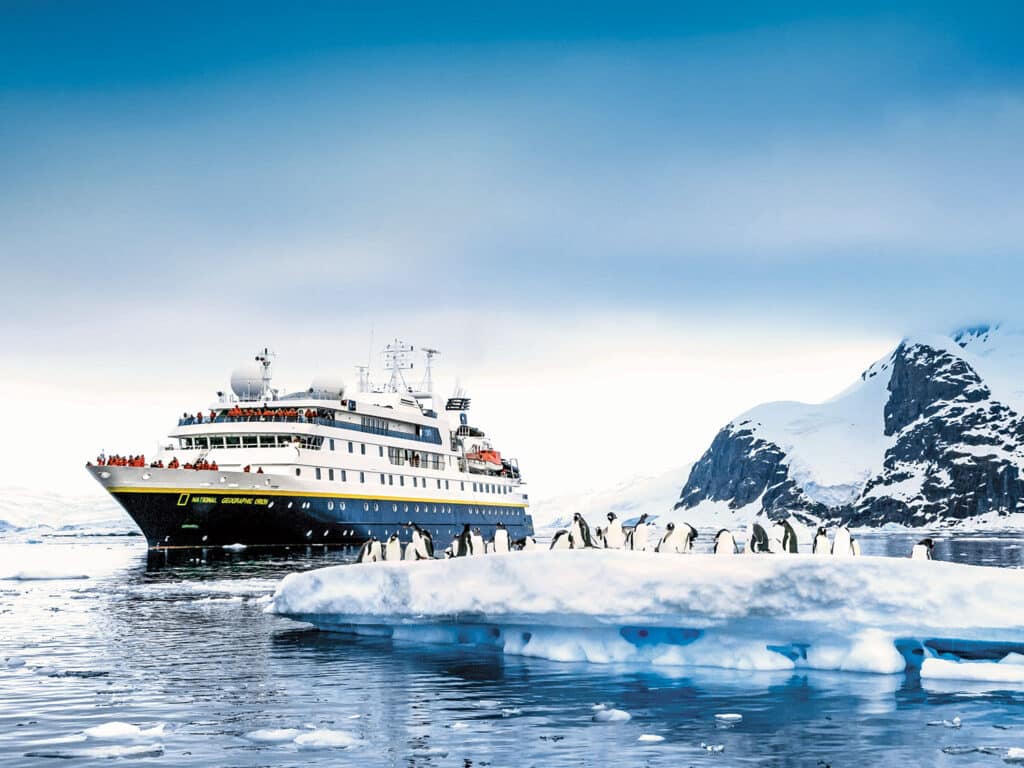 Ralph Lee Hopkins/Lindblad Expeditions
Spend the first two days in Argentina, and after getting settled into the Alvear Art Hotel (if not the Alvear, a similar accommodation), you'll have time to explore Buenos Aires for a bit. There are even opportunities for guided group tours if you'd like to visit iconic sites like Recoleta or browse through a local museum like the El Zanjon de Granados.
Fly to Ushuaia, Argentina and Board the Boat
Ushuaia in Argentina is a city at the southern end of South America, given the name the "End of the World." Before embarking to Antarctica, guests can visit the Tierra del Fuego National Park integrated in the Tierra del Fuego Province within the subantarctic Altos Andes and the Patagonic Forest.
Explore the national park before enjoying lunch on a catamaran as you take in views of the Beagle Channel, searching for wildlife. By the end of day 3, you'll be settled on board the vessel ready to head to Antarctica!
The Drake Passage
As the saying goes: "Nothing good comes easily." For the next two days, you will be crossing the Drake Passage. If you've ever seen videos, this region can be quite treacherous at times, with huge swells and crashing waves. At other times, it's nicknamed the "Drake Lake," and incredibly smooth (if you're lucky). You never really know what you're going to get, and you should definitely be prepared for the worst-case scenario. Have plenty of seasick medication and seasick patches (be sure to read the instructions, applying the patches or starting the medication ahead of time), candied ginger, essential oils, pressure point seasick bracelets, and drink a lot of water. Throw everything at it, so that you are prepared and comfortable.
The possibility of large waves aside, this is also a great time to keep your eyes open for beautiful sea birds like albatross, among other wildlife like whales breaching in the water. You can relax in your room, spend time attending a seminar on wildlife, or indulge in a spa treatment. It'll take about two days to cross the 500-mile stretch from South America to the Antarctic Peninsula.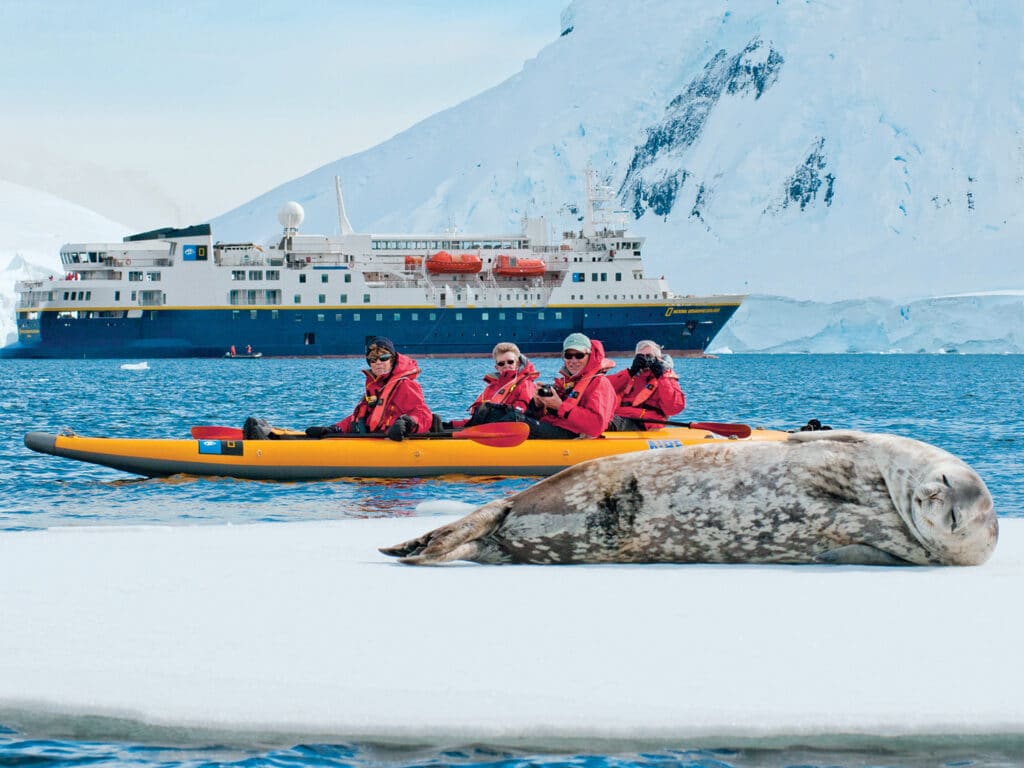 Sven Olaf/Lindblad Expeditions
Explore Antarctica!
For the next five days, explore the continent of Antarctica with professionals on board. Each day will be filled with adventure and expeditions based around the scenery and, of course, the range of wildlife on the continent and in the surrounding waters. At any given moment, you can look out from the bow of the ship and see orcas or humpback whales splashing in the water.
As you're hiking on land, you can look over and see a variety of penguins waddling alongside the group like Chinstrap, Adélie, and Gentoo penguins. While heading to land on the Zodiacs, you might spot seals diving and playing in the water or blue-eyed shags flying through the air. The expedition team's experts go above and beyond to make sure that guests have an extraordinary experience that they'll never forget on the frozen continent. From the towering icebergs and glaciers to the wide range of wildlife, it's such a special experience that you'll cherish forever.
Out at Sea
After exploring Antarctica for five days, spend the next two days heading back to the tip of South America. This is a great time to pack, browse through your photos, edit, read, and relax. Take some time to truly appreciate the extraordinary adventure you just had and make sure to celebrate with people you met along the way at the farewell dinner. The next day, disembark and fly from Ushuaia to Buenos Aires to catch an overnight flight home.
How to Pack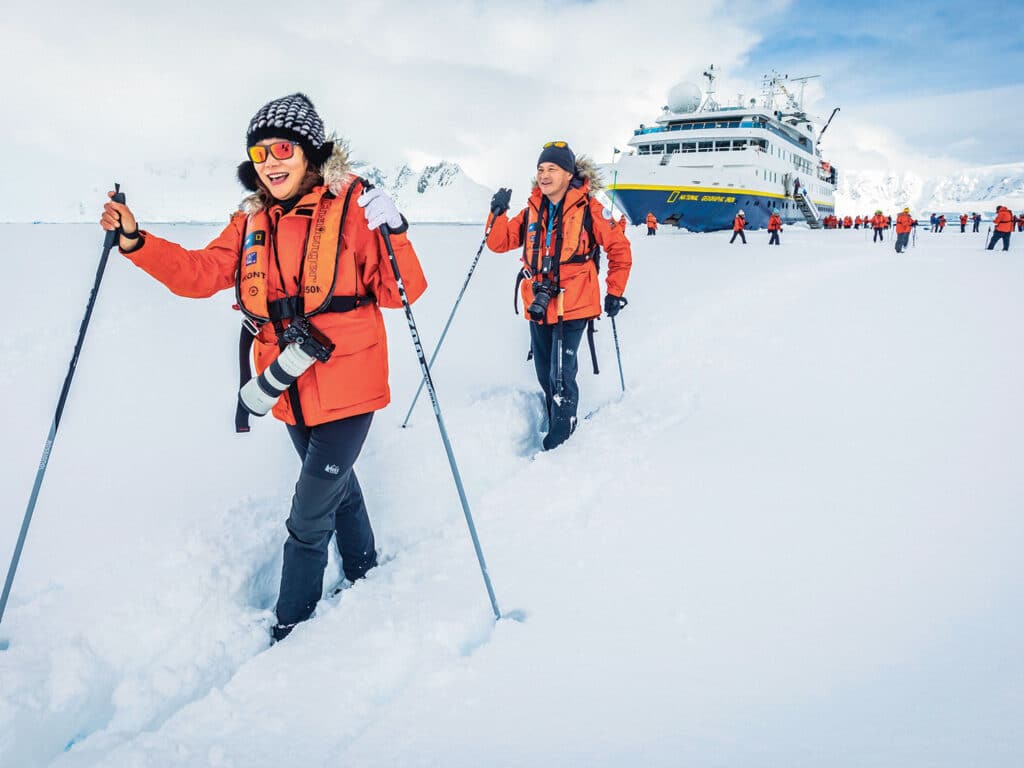 Ralph Lee Hopkins/Lindblad Expeditions
There's no need to worry about a dress code on board Lindblad Expeditions National Geographic Explorer, so you just need to be concerned with packing the essentials. While on the ship, wear what you're most comfortable in that's weather appropriate. Be sure to have special pieces packed like plenty of heavy, warm socks and waterproof pants to keep you warm and dry, cold-weather essentials like scarves, hats, and gloves, heavy, tall boots, and sweaters.
For Antarctica, Lindblad has parkas available for guests, saving room in their suitcase. Of course, don't forget the camera equipment. Trust me—you're going to want to have this documented.
The post Exploring Antarctica on the National Geographic Explorer with Lindblad Expeditions appeared first on Islands.