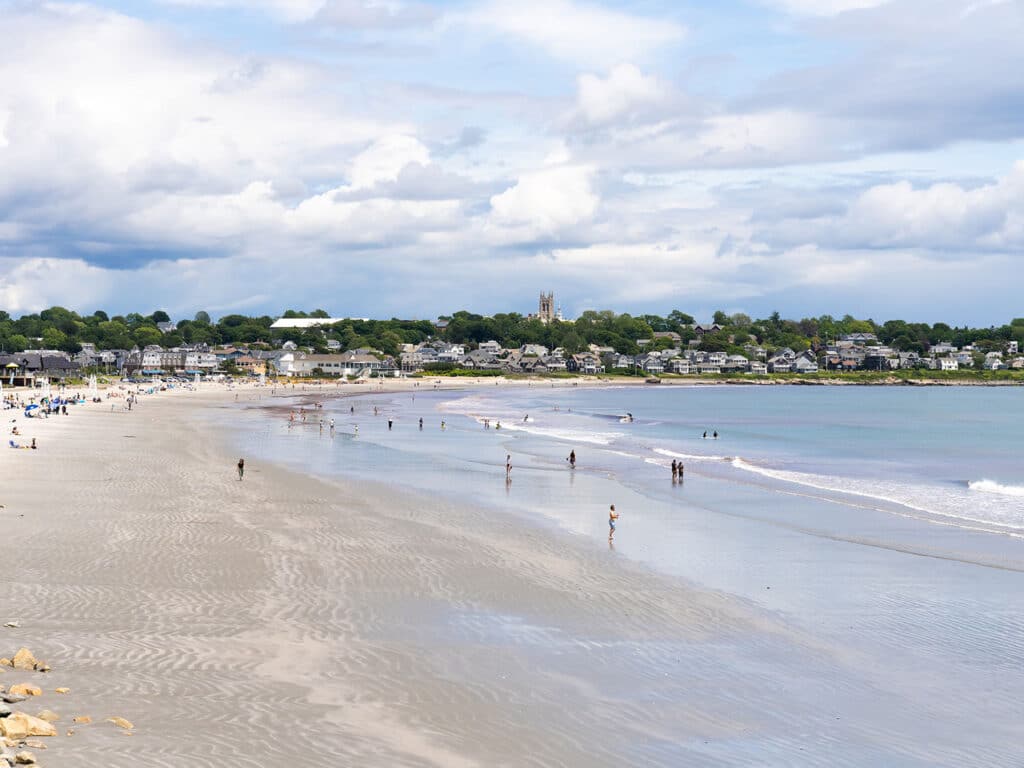 Shannon Hammond
New England is loaded with alluring destinations, but the region featuring Rhode Island's pair of gems, Newport and Narragansett, is truly special. These beautiful Ocean State cities are full of big waves, sunshine, shops, and friendly faces, as well as delicious seafood restaurants, locally owned businesses, and especially clean beaches where locals and visitors can swim and surf.
There is so much to do in these towns that planning a first visit can be a daunting task. Here are some tips that might relieve the stress of creating an unforgettable vacation itinerary.
Where to Stay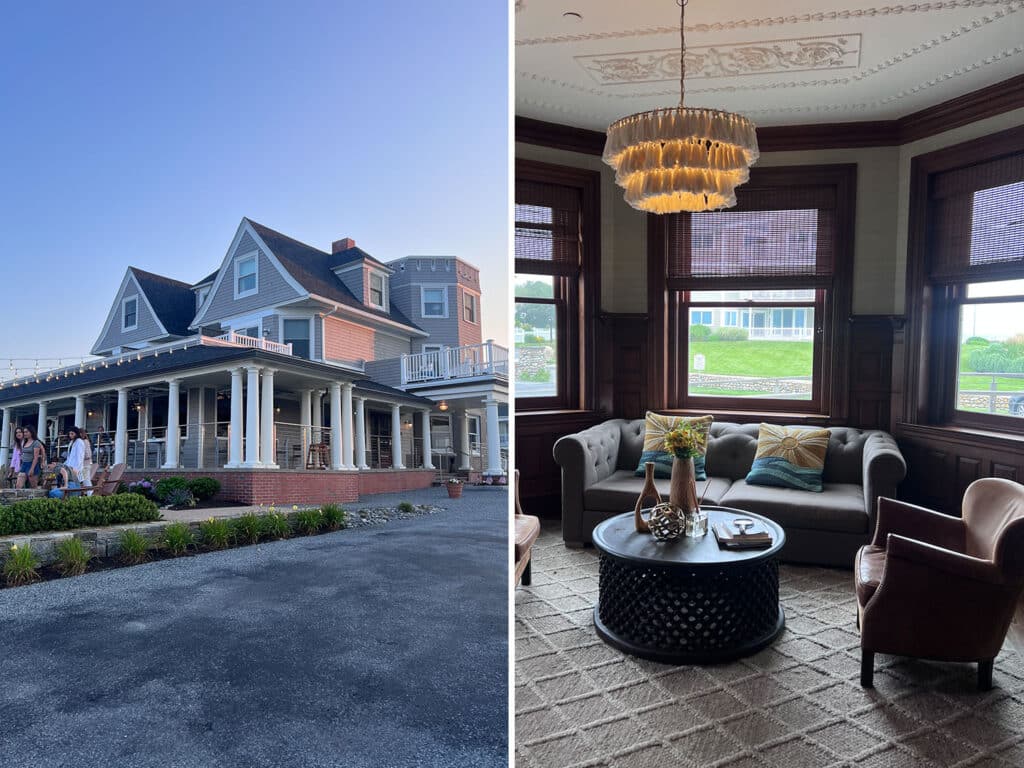 Jessica Kelly
The Shore House is a Victorian mansion with modern amenities and gorgeous views of the beach. After falling asleep to the sound of the waves, you can wake up and relax in bed as the sun fills the room as the natural beauty of the shore beckons you outside. The King Shore Room has a big bathroom, seating area, and comfortable bed, as well as a coffee station and a fridge to keep leftovers, drinks, and snacks readily available to you.
The location is absolutely perfect, just a short walk from Narragansett Town Beach, but there are also bikes available for guests who want to explore (and beach towels are offered as well, which saves precious space in the luggage). When it comes to dining in and around the hotel, the on-site restaurant Sea Craft is ideal for grabbing a quick, convenient meal to start the day, or enjoying a cocktail after a long day of seeing the town, all while taking in the beachside views.
Where to Eat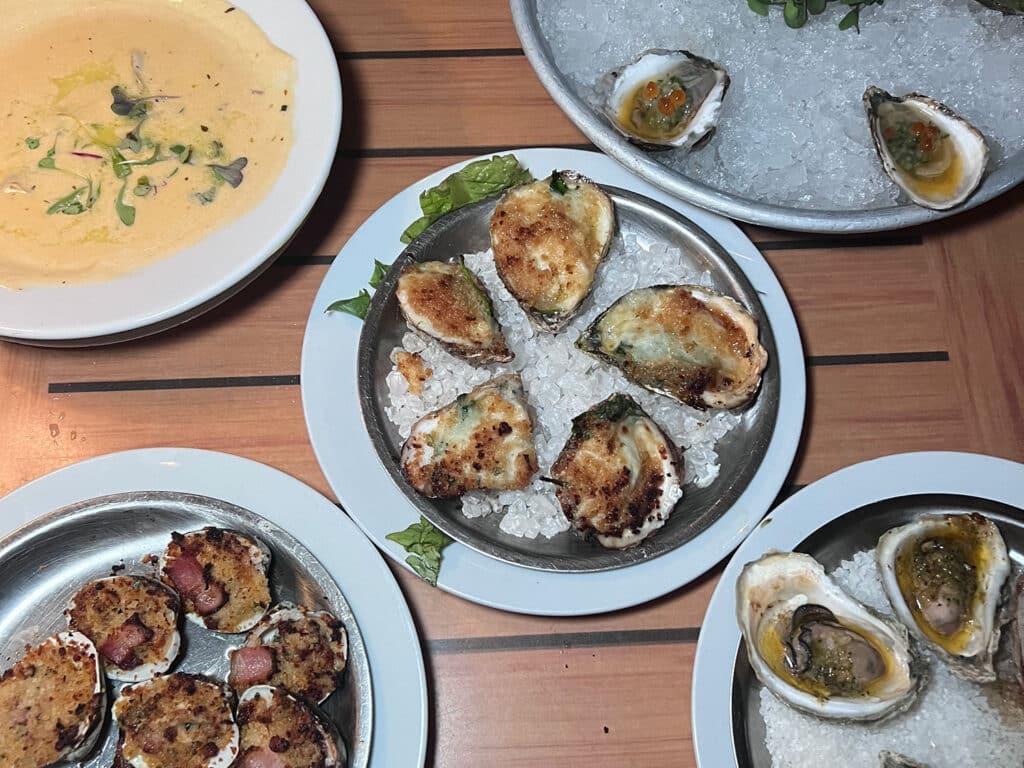 Jessica Kelly
Matunuck Oyster Bar  is widely considered one of the best restaurants in the Narragansett area. If you love oysters, a dinner here is simply non-negotiable. They run their own oyster farm on-site right on Potter Pond, with tours available for guests (for an additional cost, and you must sign up ahead of time). The menu covers a wide variety of cooked and raw seafood dishes, particularly featuring oysters, with options like the Passion Fruit Oysters on the half shell with salty salmon roe and crisp brunoise cucumber.
At the risk of invoking Bubba from Forrest Gump, guests can enjoy a variety of dishes and takes on this local staple. Oysters Rockefeller with spinach, pernod, breadcrumbs, bacon, and fresh herbs or Clams Casino with bell pepper, bacon, breadcrumbs, lemon, and parsley. Try the Grilled Oysters with garlic butter and fresh herbs, Bourbon Oysters with bourbon chipotle sauce, and the Oysters Rockefeller. They even have a creamy, rich Oyster Stew with rosemary cream, bacon, roasted sweet corn, onions, bell peppers and poached oysters. Don't worry, though: there are plenty of New England classics on the menu like a Lobster Roll with chilled lobster meat, a light coating of mayo, and celery on a buttered roll, in addition to dishes like the Stuffed Lobster with plenty of sides as well.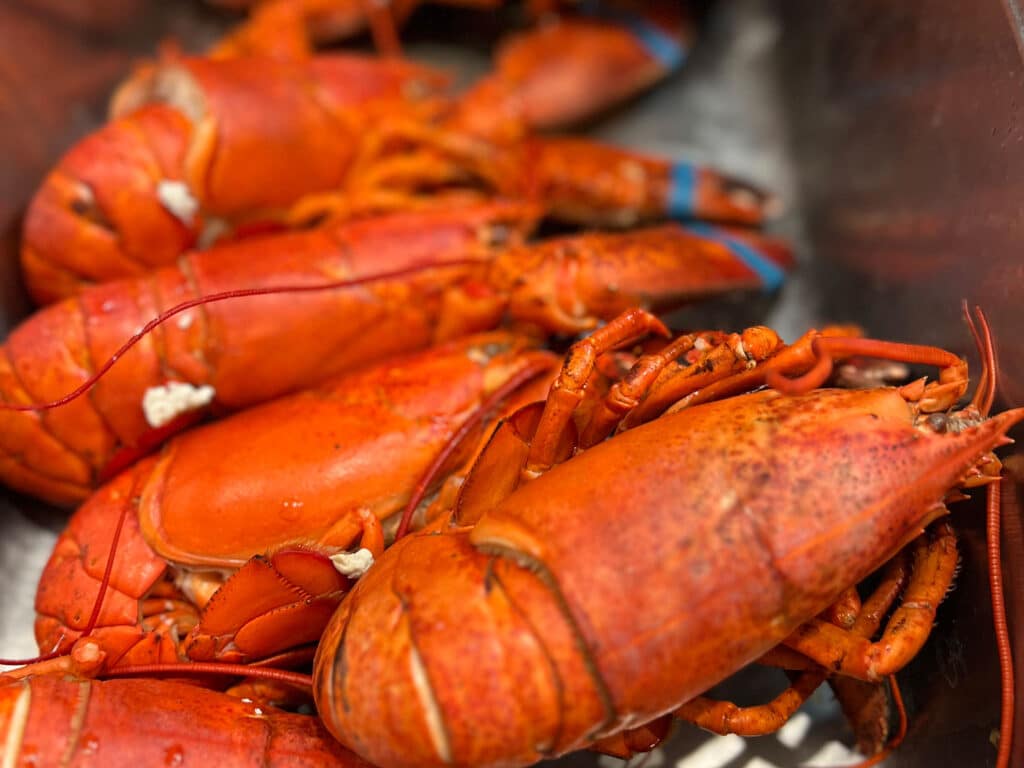 Jessica Kelly
The Nordic is a short drive into Charlestown and completely worth the trek—it's a destination of its own. People drive from all over to experience this buffet, which is far from your average all you can eat affair. Guests will enjoy a seemingly endless amount of raw bar items, fresh shellfish, chowders, and other New England favorites.
The family-run seafood spot has other options like prime rib, barbecue, a salad bar, pasta, and fried seafood, but they're known for having a bounty of steamed lobster and clams, crab legs, raw oysters and clams, chowders, bisques, shrimp, and more. Adults pay just $135, which is a steal, especially during tourist season in New England. If you even have room after that for dessert, their entire dessert table is filled with delicacies from local bakeries and fresh treats.
The lakeside property often has live music and entertainment, so visitors can wander the grounds to see the animals, take in the view, and relax before or after their meal. The Nordic is an experience that needs to be on your radar the next time you're in Rhode Island.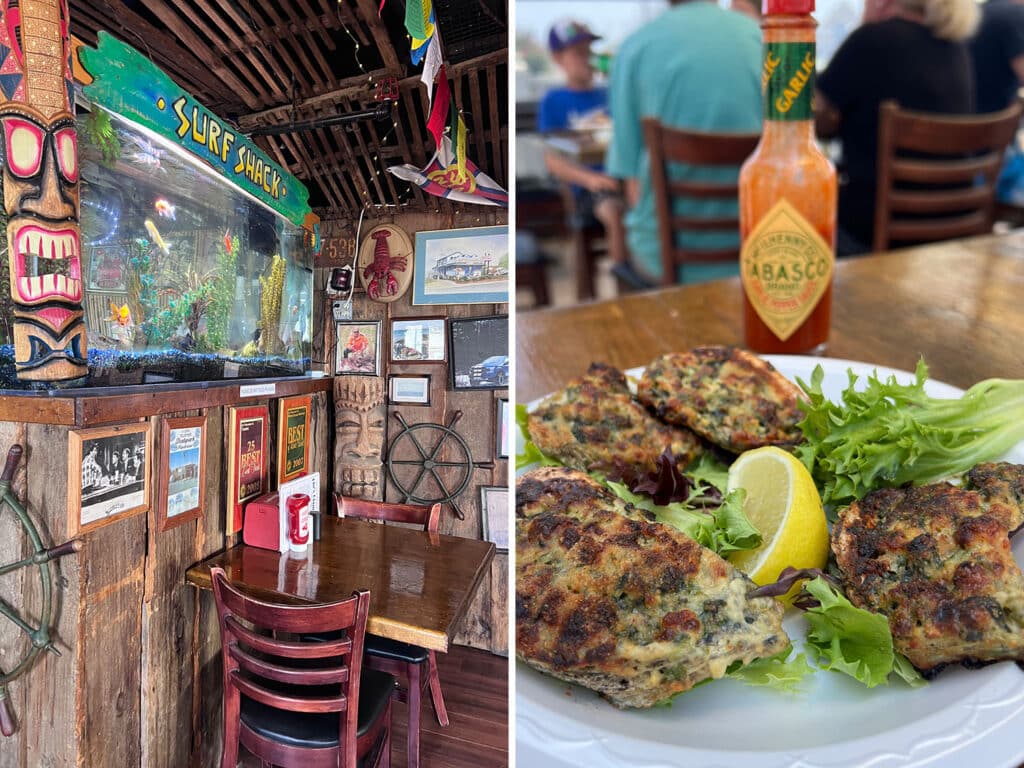 Jessica Kelly
Flo's Clam Shack has been around for nearly 80 years, serving up some incredible (lightly fried) seafood dishes and chowders. Start with one of their heavy-handed rum drinks (although be careful because they can sneak up on you), while looking out onto the beach while waiting for your food on the upper deck. It's hard to choose from this menu when nothing misses, like their famous Clam Cakes. They're crispy, but soft on the inside, with juicy pops of fresh, briny clams. They're perfect for soaking up chowders or can be enjoyed on their own.
If you're having trouble deciding, the Flo's Fisherman Platter is perfect to share. It comes with plenty of their juicy, whole belly fried clams, tender clam strips, calamari, sweet giant scallops, and fried fish, all of which is topped with a clam cake. It's basically a little bit of everything that you definitely need to try, so this is a solid choice for about $36. The Oysters Rockefeller are also incredible, and the restaurant offers casual options like a spectacular Lobster Roll filled with fresh lobster meat.
Best of all, take in the beautiful views of Easton Beach while inhaling your clam strips. There's a reason they've been in business for nearly 80 years, they know how to do fresh and fried seafood right. The clams are still juicy, the fish is fresh, and you can really taste the seafood without the coating overpowering it, but more enhancing it.
The Mooring Seafood Kitchen & Bar is another great spot in Newport to stop for a delicious evening meal. They have light starters like raw oysters and crudo with fresh scallops, radish, extra-virgin olive oil, citrus, and serrano that you snack on while sipping a cocktail. The Oysters Rockefeller are a must and the Stuffed Lobster with scallops and shrimp is perfect if you're torn between indulging in a lobster dinner or a seafood stuffed lobster. You get the flavorful stuffing while still having some plain, steamed lobster pieces like the knuckles and a claw. It's definitely the best of both worlds.
What to Do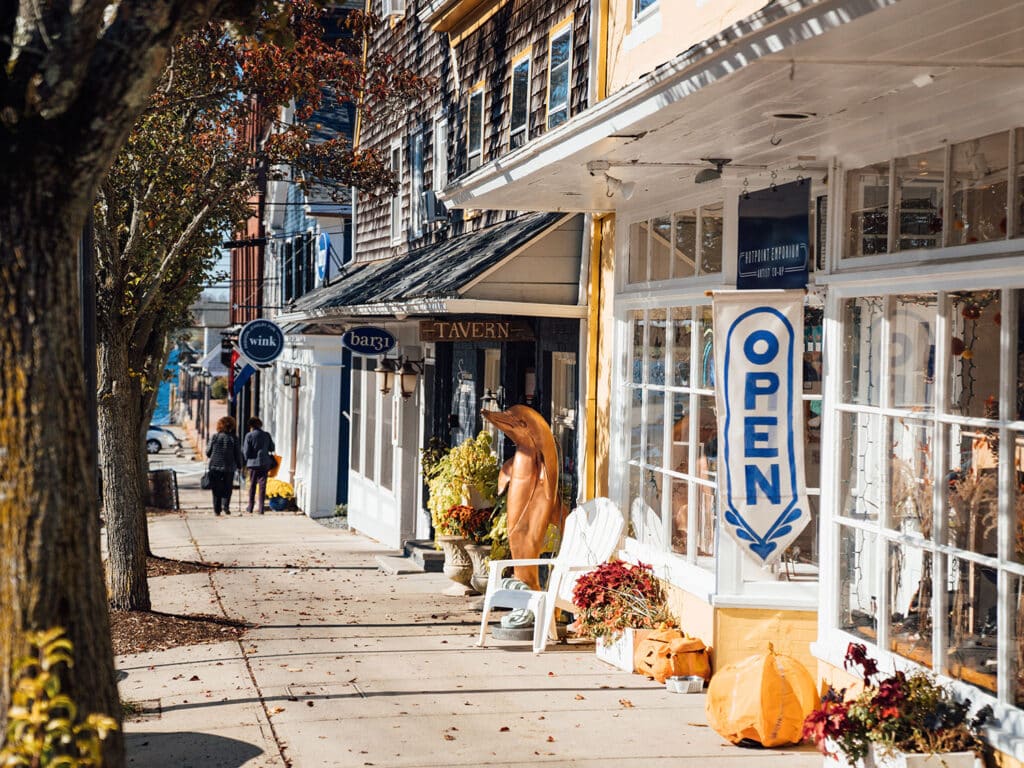 Discover Newport
Give yourself plenty of time to explore Newport. The shops seem to go on for miles, breaking off into all different blocks of local boutiques, souvenir spots, locally owned businesses, and some larger stores, as well. For a little pick-me-up, swing into Benjamin's on the strip for their happy hour from noon until 2 pm daily. You can grab a beer and enjoy a few $1.50 oysters and $1.25 topnecks—a great deal for the area. If you're there specifically on Tuesdays, they have Raw Bar Tuesdays with $1.50 oysters and $1.25 topnecks in addition to $1.75 shrimp, $1.50 Clams Casino, and $1.75 Oysters Rockefeller.
The Red Parrot has incredible lobster bisque and tropical cocktails, and be sure to grab a lavender iced latte (among other flavors) to go from Coffee Grinder. Not only is their coffee high-quality, but the owner is such a wonderful person who takes the time to connect with every single customer, local or not. She ran her coffee shop in Bannister's Wharf for nearly 25 years and has since moved to the historic Perry Mill between Thames Street and Newport Harbor.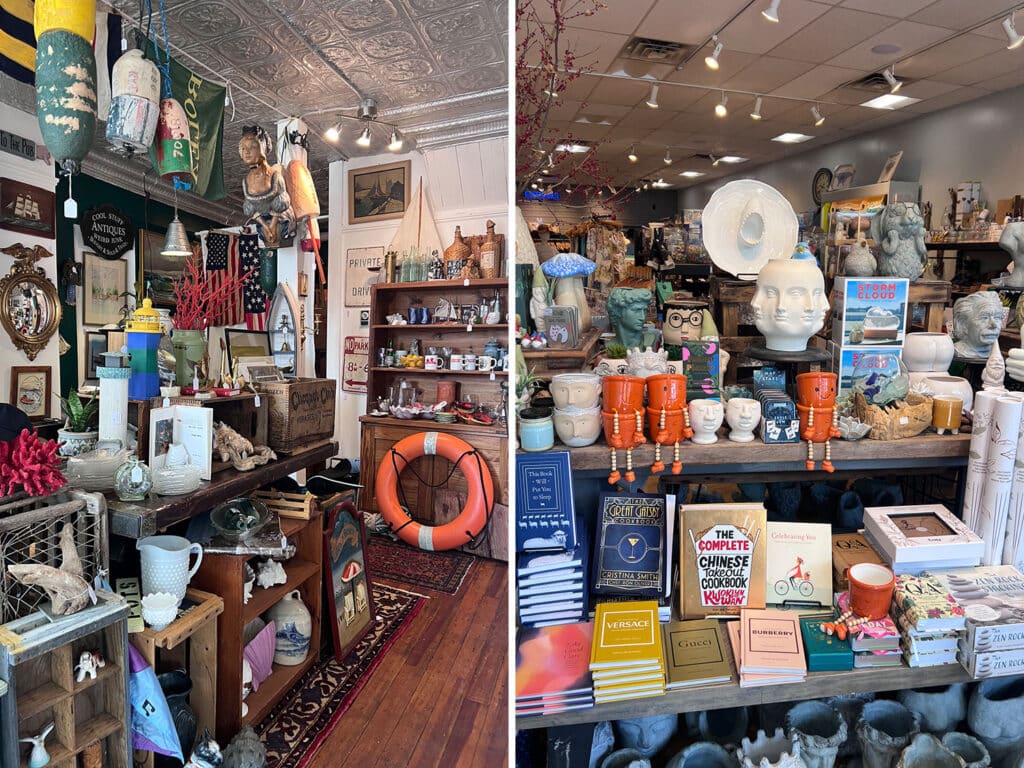 Jessica Kelly
Narragansett Town Beach is just a short walk from the Shore House. The waves can be a little larger, so it's a great spot for people who enjoy body surfing or boogie boarding (just follow the warnings from signs and lifeguards about potential undertows and currents to stay safe). If you're feeling up to it, you can even take surf lessons, which are offered by several local companies.
For example, Peter Pan Surfing and SUP Academy is located down the street from the beach and offers lessons, and the instructors are so incredibly patient, kind, relaxed, and work with your level of physical ability. Be sure to have cash on you when you head to the beach to pay for the entrance fee during high tourist season and of course, a Del's Frozen Lemonade for your walk back.
For about $20 for a round-trip ticket, you can take the high-speed ferry for the day from Point Judith to explore Block Island. Approximately 12 miles off the coast of Narragansett, you'll find an island full of beautiful bluffs on the ocean, locally owned shops, water sports like parasailing and kayaking, among plenty of beaches to swim and sunbathe at throughout the day.
The post How to Make the Most of Your Newport and Narragansett Getaway appeared first on Islands.