Beaches Turks and Caicos
I don't recall how my 7-year-old son originally learned about Turks and Caicos, but once he's set on an idea, he rarely relents. "Did you know that Turks and Caicos has some of the most beautiful beaches in the world," he told me in more of a statement than question. I admitted I'd already visited Grace Bay multiple times and can assure him—and everyone else—that it more than lives up to its reputation. He was instantly jealous and a little angry I hadn't let him tag along, so I pulled the ultimate dad move: "I've been trying to talk your mom into a vacation there, but she prefers the Bahamas."
Sure, I was in trouble the moment that sentence ended, but I had been dying to get back to Providenciales, so I knew the boy would take care of the rest. In the meantime, I also knew I'd be grilled about resorts—it comes with the career, obviously—but there's only one choice for a boy who is crazy about pools, thrilling experiences and amenities, and occasional surprise events: Beaches Turks and Caicos.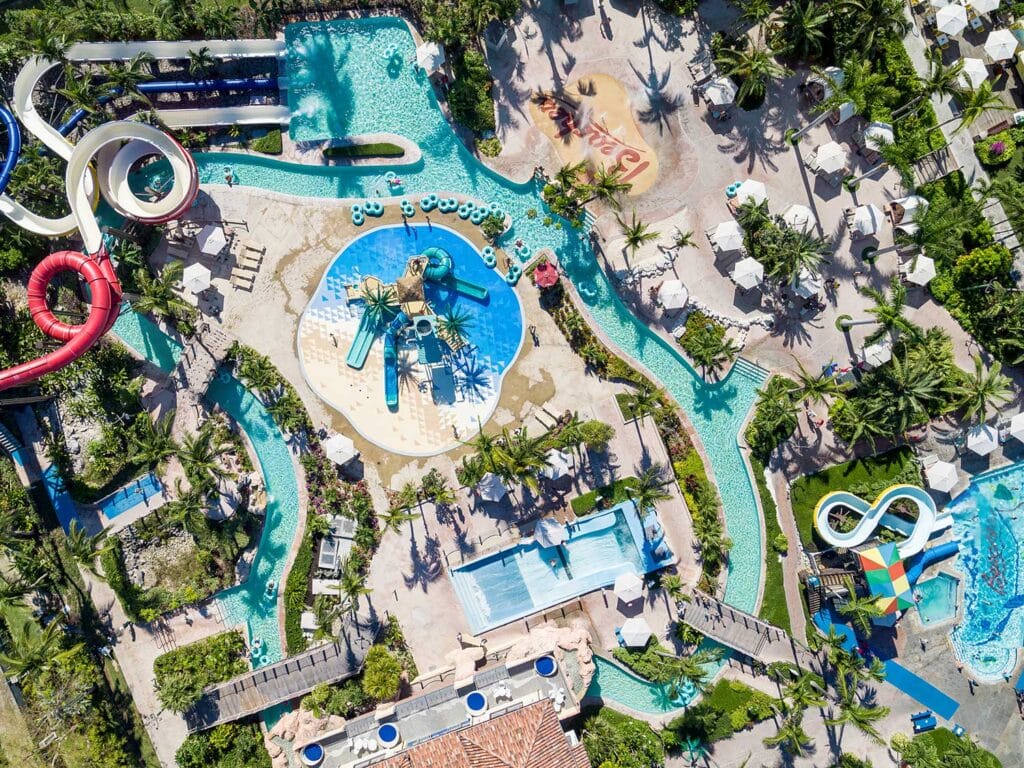 Beaches Turks and Caicos
Each time I'd previously visited Provo, I asked my hosts about the various resorts, and while they certainly spread the praise equally, they all agreed that Beaches Turks and Caicos was the best choice for families. "There's so much to do and you never have to leave," one local told me. Another added, "They always have something going on and the beach is never crowded, so everything is right there." Of course, they also agreed that everyone should still leave and explore, especially for my personal favorites, like a round at Royal Turks and Caicos and dinner at Le Bouchon Du Village.
But the kids are ultimately the best critics, so here are the aspects my son loved the most—all of which put the biggest smile on my face.
Wide Open Spaces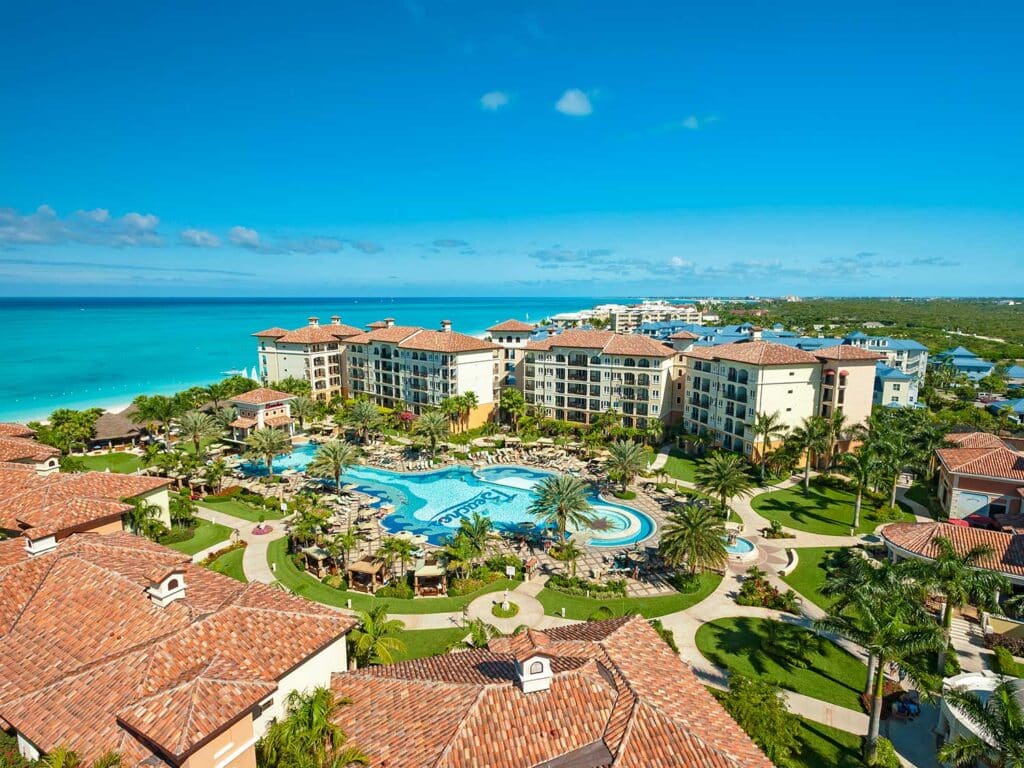 Beaches Turks and Caicos
Let's start with the most important factor: accommodations. Beaches Turks and Caicos is set up like a city, with different neighborhoods and styles to choose from, including the Key West, Caribbean and Seaside, Italian, and French Villages. It's like a tropical Epcot you can sleep at. On one hand, I was enthralled with the various designs and concepts, but I was also a little bummed that we couldn't stay in all of them. Still, the typical dad in me was thrilled to say things like, "Let's hang a left at Key West and go two pools beyond France" and "If you've reached Italy, you've gone too far!"
Our Key West Three Bedroom Gardenview Butler Villa was basically a vacation apartment and more than we needed in terms of space, but that's kind of the thing here. Everything feels like a bonus. From the living room to the patio deck and the dining options to the nightlife, it's an all-exclusive experience on steroids.
Making Familiar Friends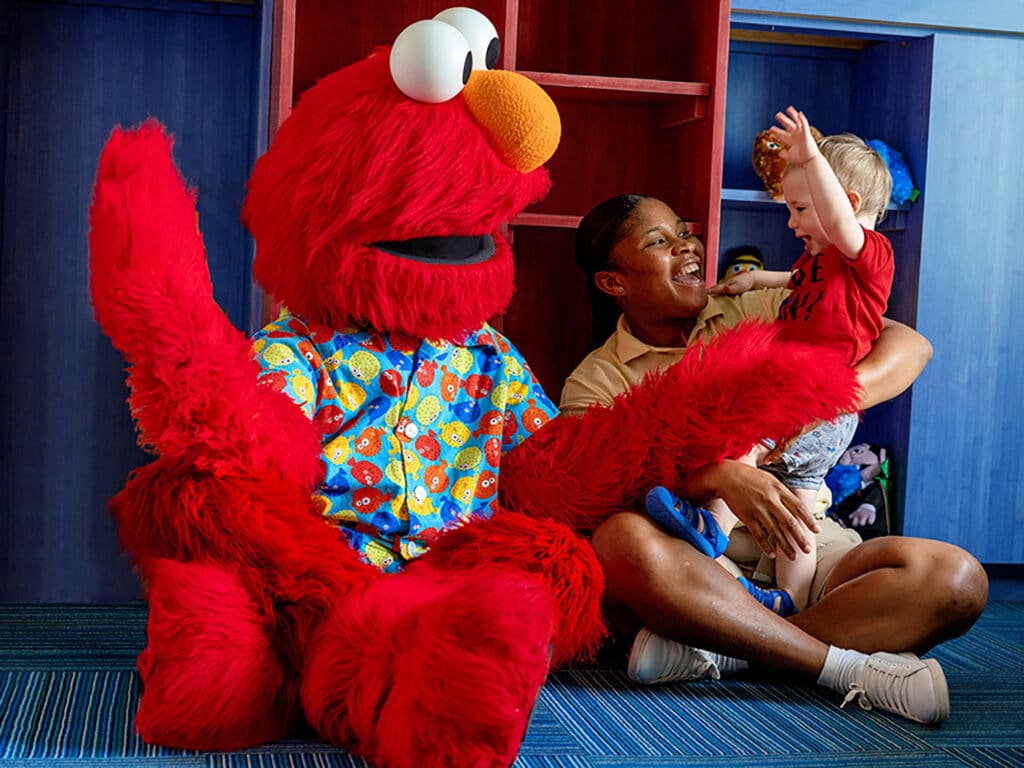 Beaches Turks and Caicos
When we set up a bedtime book-reading with Cookie Monster, my wife and I were a little worried our son had already outgrown his favorite Sesame Street character. (Not to mention his poor Elmo doll has collected two years of dust in the closet.) Fortunately, he's as much a nostalgic soul as I am, and when that giant blue belly and those big eyeballs appeared at our villa door, he basically lost his mind as if he was four all over again.
Now, I know what you're thinking: "Oh great, some poor guy in a costume just going through the motions." Not the case. Cookie Monster and his handler were so incredibly kind and in-tune with my son's reaction and even his age, so their jokes delighted him and the character's dancing antics had him laughing so hard I thought he was going to barf up the cheese and crackers he didn't know I saw him take from the complimentary platter.
Not that we needed extra snacks, of course…
Food, Glorious, Food!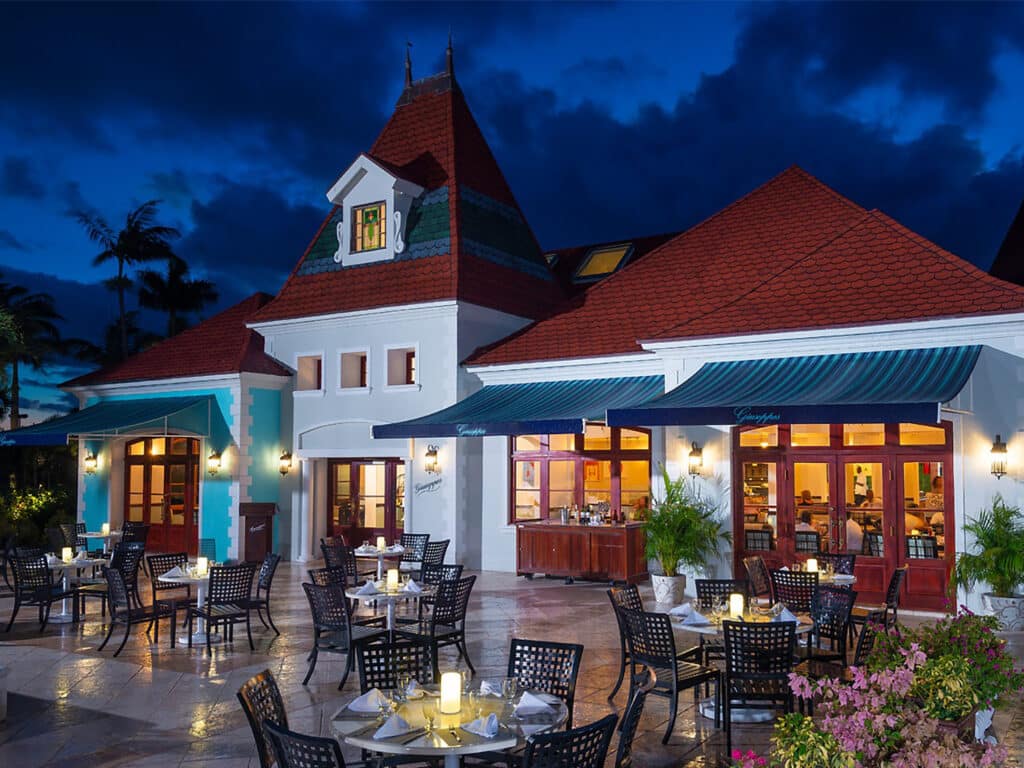 Beaches Turks and Caicos
With 20 dining options to choose from, this is a kingdom of indulgence. Just thinking about how much we ate during our four-day visit has me sweating again. My opinion matters very little, however, because every parent knows that the greatest vacation challenge is appeasing the wildly changing appetites of the world's pickiest eaters. And I can't even imagine what that's like for families with two or more kids, which is why Beaches Turks and Caicos is currently my number one recommendation when friends call.
It's not just the number of options, though, as much as the variety. Italian, Mediterranean, British, French, Caribbean, American—when your child has that mac and cheese mindset or is just a cheeseburger machine, a parent can stress over the thought of not being able to incorporate foreign cuisine into the daily grind. (Hell, my son thinks Mexican food begins and ends with a quesadilla.)
The cuisine at Café de Paris will hardly remind anyone of a bistro two blocks from the Eifel Tower, but it's still very good and, best of all, my son thinks The Cricketers Pub was a legitimate British establishment, so he even asks for fish and chips at home now. (I draw the line at black pudding, though.)
Very Pleasant Surprises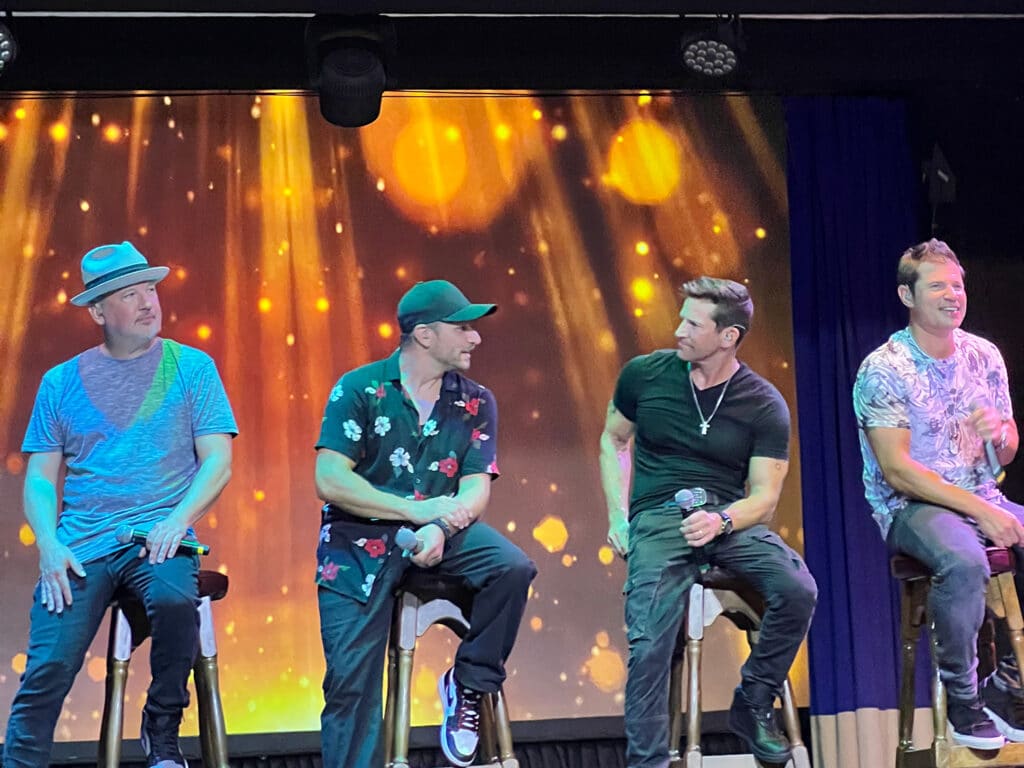 Islands
Sandals resorts are well known for spoiling guests with a little extra fun on a moment's notice. For example, the Blue Man Group was brought in to headline the opening party at Sandals Royal Curacao last year, but those famous silent dudes also spent time running around the property for their legendary hijinks. So, I wasn't necessarily surprised when the Beaches Turks and Caicos staff alerted us at check-in that we'd picked a very "hot" weekend to stay.
That's because 98 Degrees had just arrived for a one-night-only show, and you don't have to be a fan of cheesy boy band pop to appreciate the opportunity to witness this rare reunion. Although, it was a little difficult to explain to a seven-year-old how cool these men who all look like dad's friends used to be, but the enthusiasm of the women in the crowd helped me deliver my point. Also, he just loved being at a concert, so it was yet another win.
So Much More than the Beach
Beaches Turks and Caicos
The thing about Provo is any vacation begins and ends with Grace Bay Beach. Family, romance, adventure—pick a theme and this destination does it with aplomb, because the sand makes such a phenomenal setting and backdrop. Beaches Turks and Caicos is not only a gateway to that majestic natural landmark, but it is also a theme park (the water slides are awesome), an entertainment venue, and even an educational experience (geography, anyone?).
Most of all, it's a starting point for a lifetime of amazing memories. What does Sandals do better than any resort chain in the world? It turns guests into repeat visitors by offering them consistent, creative quality and comfort in some of the Caribbean's most beautiful settings. Children don't get to have that fun, but Beaches Turks and Caicos is one of the few exceptions.
And for family fun in paradise, it's nothing short of exceptional.
The post 5 Things Every Parent Will Love about Beaches Turks and Caicos appeared first on Islands.