Islands
Of all the made-up holidays we celebrate because we simply love celebrating anything, National Golf Month might be the one that is the most unnecessary. For most golfers, no matter how good or bad we are, rain or shine or mind-blowingly hot, we never stop thinking about this sport that is both wonderful and mean, so I'll just borrow a cliché and state the obvious: every month is National Golf Month.
Still, it's a holiday and you and the golfer in your life deserve to be pampered. If anything, a nice gift will hopefully add a little positivity to your mojo or add a little swagger to your profile. From the irons to the shoes, here's the gear I'm absolutely loving right now.
Takomo 101 Irons
One of my favorite things about my Takomo 101 Irons—aside from the affordability and fact that they might have been crafted by wizards—is watching this company take off and become one of the hottest new names in the game. Some of the sport's most popular influencers are now riding the Takomo wave, and it's simply thrilling to see more and more people learn firsthand what I've been screaming for at least a year: these irons are absolutely phenomenal.
First and foremost, they are extremely forgiving and swing like a breeze. Switching from a "major" brand to Takomo made me wonder if I was making a mistake, but the experts behind this concept had people like me in mind, as the 101s were designed for casual and beginner golfers who don't have time to practice daily. Even my much better friends—and two instructors—confessed how much they love swinging my irons and the Takomo Skyforger wedges as well.
Equally important, though, is that the traveling golfer should love them because the price is low enough that lost or damaged luggage won't feel like a stock market crash. Not that you want to lose your sticks, obviously, but less money spent means more for a high-quality travel case (like Samsonite's hard case that says, "I'm all business, even in paradise") or this next accessory…
Stewart Golf VERTX Remote Trolley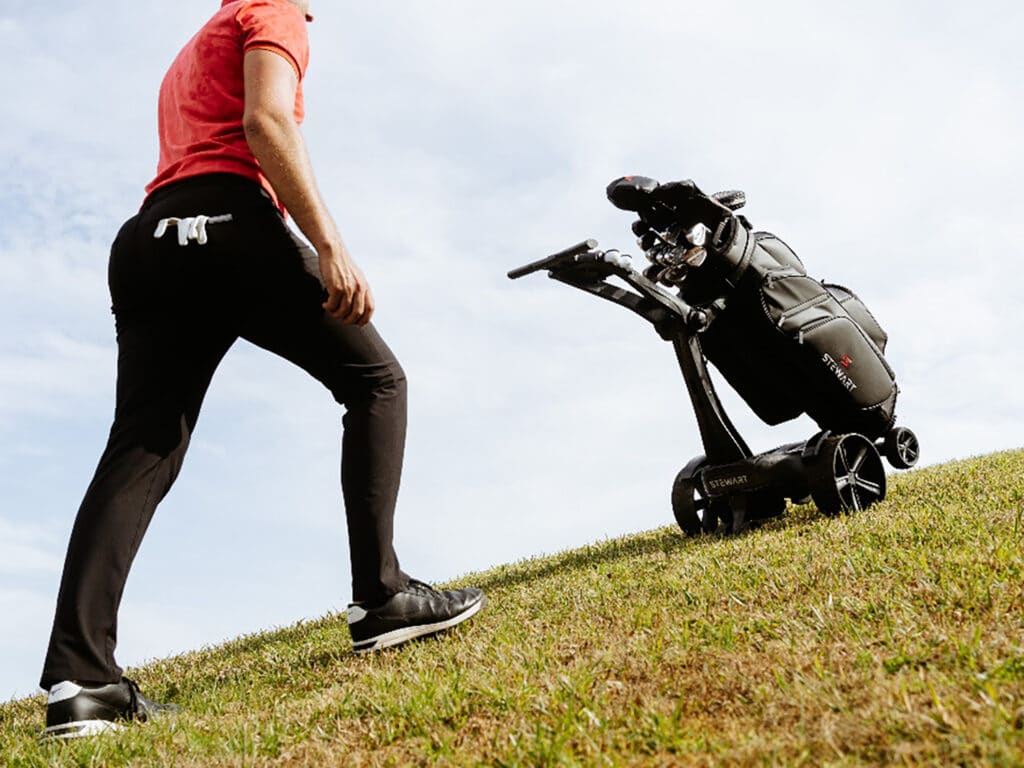 Stewart Golf
As the temperature (hopefully) declines, golfers who love to play for the fitness value will prefer to walk more and leave the carts at the clubhouse. Obviously, that either means lugging a heavy bag around for 18 holes or choosing the right trolley, and UK-based Stewart Golf has made it clear that the VERTX Remote is the only trolley for the job.
What makes this one so special? Its coolest capability basically allows it to do the caddy things the tech accessories can't do for you: bring you your clubs. Golfers will love using the Active Terrain Control feature to summon their trolleys from up to 100 yards away. That's especially great for those moments when you know darn well you're holding the wrong club and don't want the people behind you shaking their fists in rage.
Instead, they'll be staring in awe.
ORCA Golf Customized Bag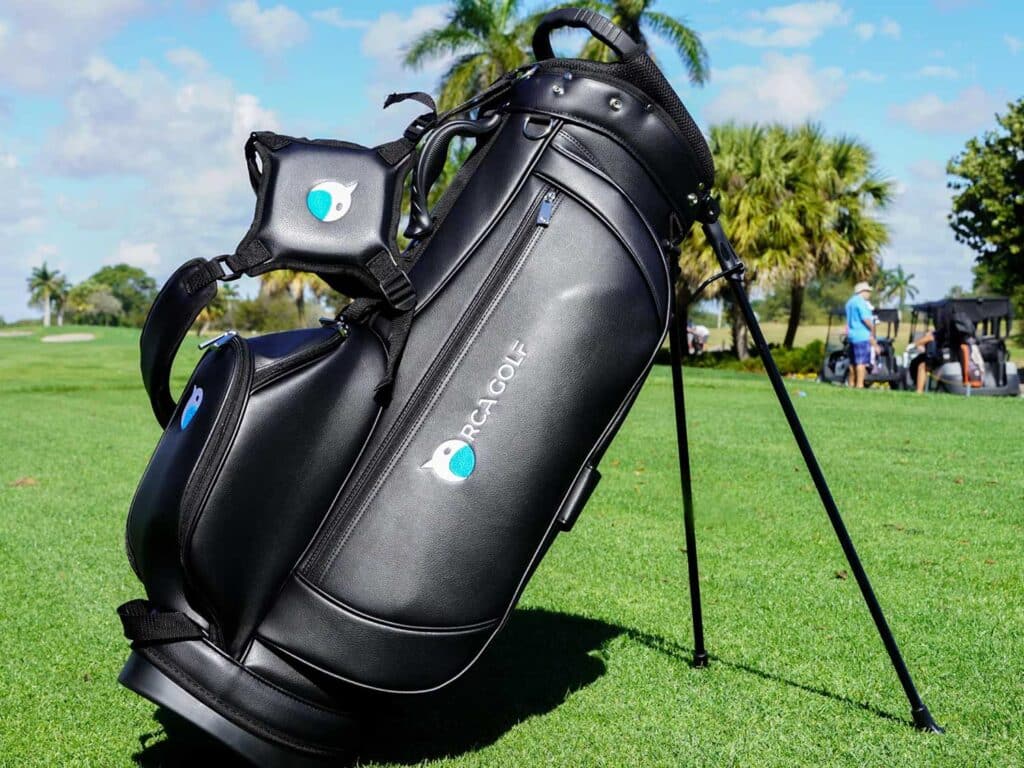 Orca Golf
Hey, if you're getting new irons and a fancy remote trolley to carry them, you might as well have the hottest personalized bag in the game. And forget a cart bag with your name stitched on the side, because the intricate process used by this creative team will leave no doubt in any golfer's mind that this is not their bag when they mistake their own for all the other similar brand names at the clubhouse.
Instead, ORCA allows you to choose the bag model and then upload whatever logos, artwork, and colors you prefer, so if you want to be the only dude on the course with a "Macho Man" Randy Savage bag, go right ahead and do it. (Except please don't because that's my idea.)
Carl's Place Red Tee Package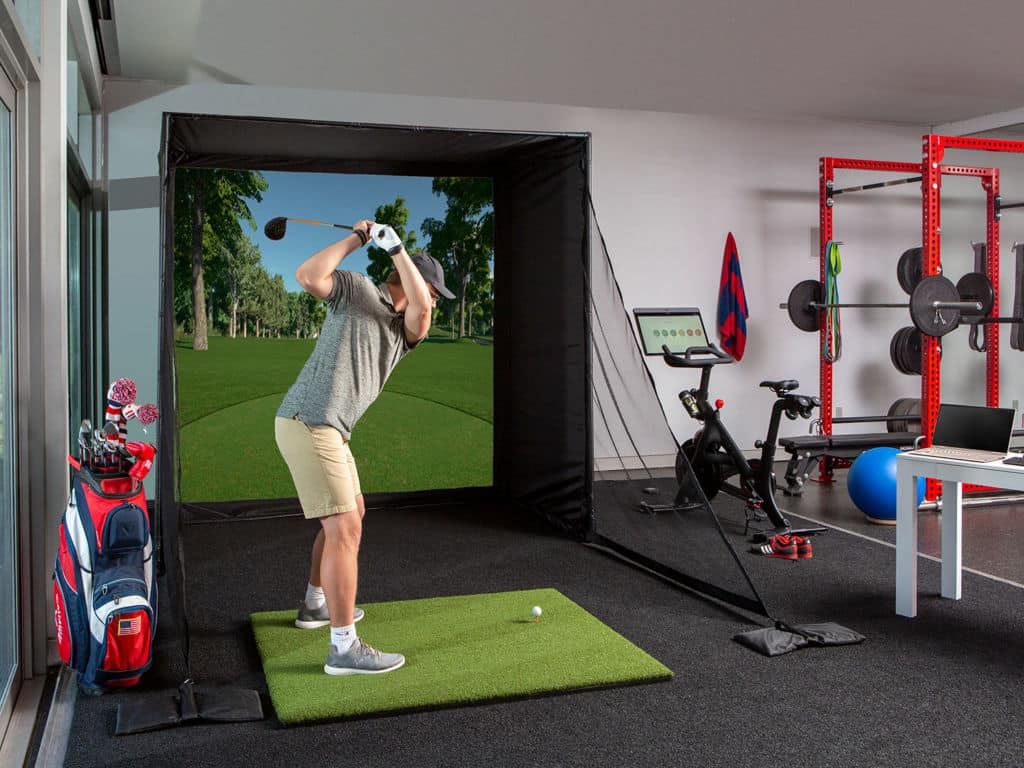 Carl's Place
You know that old joke about how you'll know if a person is a vegan ("they'll tell you!")? Well, that's how I feel about golfers who have simulators set up in their homes. Except I love hearing all about them, and I love it even more when I'm invited to play them, because they're just so much fun (and I don't have to worry about being on a packed Florida course, somehow with a 5-some playing into us while we wait for the twosome in front of us to six-putt /endrant). Choosing one is, of course, the hardest part, but fortunately Carl's Place makes it too dang easy.
Obviously, space plays an important part in the selection process, but once you're all measured and ready to shop, the Red Tee Package is as convenient as it gets. Included are the SkyTrak Launch Monitor (which covers all the metrics of ball speed, launch angle, and spins); DIY golf simulator enclosure (at 8×10.5×5 you only need to figure out where it fits, and this has the screen, frame, net wall extensions, and everything for installation); True Strike single golf hitting mat; and BenQ TH671ST golf simulator projector.
Best of all, this package saves you $600 on all the essentials. That's more money for wall plaster for when your friend's slice is even worse than it is on the course. Or you can go all in and get decked out in the simulator apparel from Carl's Place, because why not add a little swagger to your home course?
True Linkswear FS-Slide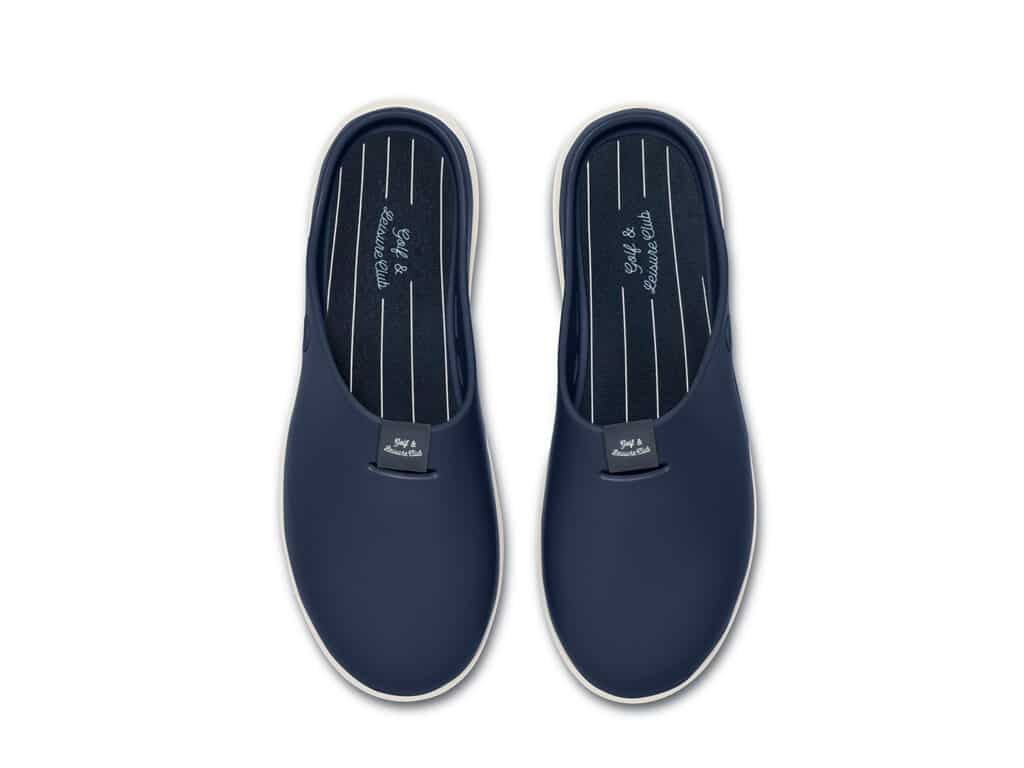 True Linkswear
Of all the news I heard at this year's PGA Show, one of the most exciting revelations came from the team at True Linskwear, the geniuses behind my favorite footwear for on and off the course. When I first learned about this brand, it was because people were raving about the All Day Knit 2—arguably the best shoe in travel and golf. This simple, stylish concept has been ideal for anyone who packs light and needs an "all of the above" shoe, as I wear mine on the plane, at the resort, and on the course.
So, how does that get any better? With the introduction of the True All Day Knit 3, which offers better heel padding for those of us who wear no-see socks and have sensitive heels. But before I could even celebrate this new shoe, the team behind it all let me on a big secret: resort wear is coming. And now it's here, starting with the "Golf and Leisure Club" drop.
I wanted to just highlight everything, but your attention spans won't allow that. So, I've chosen my absolute favorite for, again, travel and golf: the True FS-Slide, an extremely comfortable sandal option for those moments when you don't need full coverage. From the resort pool to the 19th hole, give your feet a break with exceptional style. (And this slide pairs oh so nicely with the All Day Vacay Button Up, too.)
Blue Tees Player+ GPS Speaker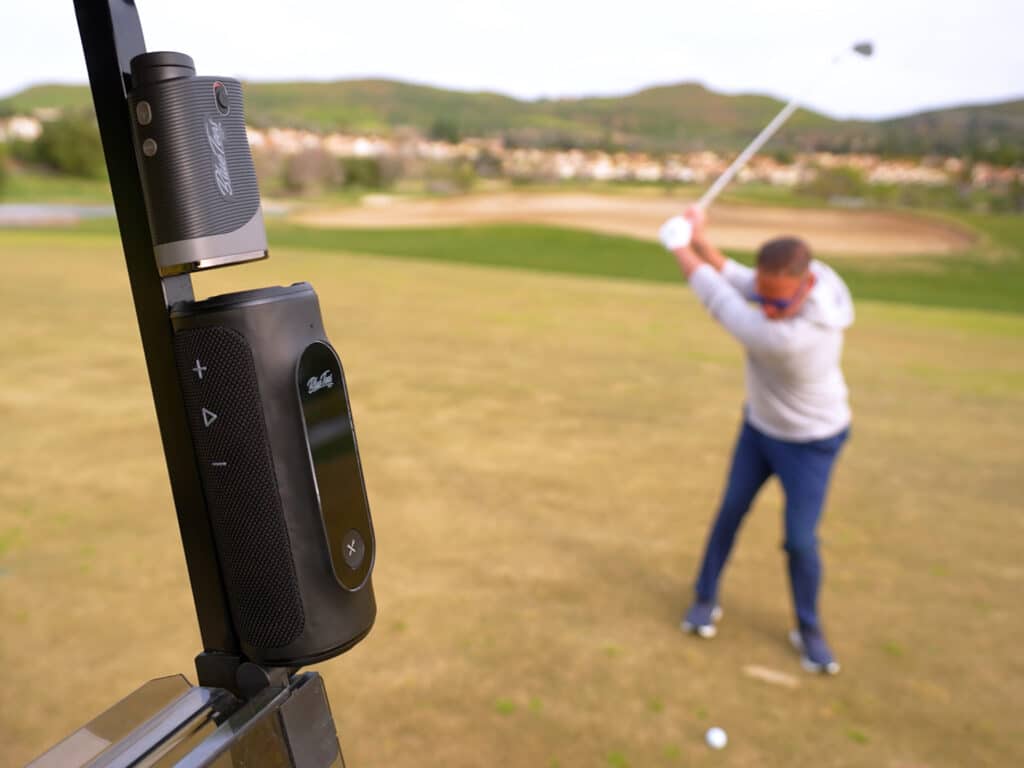 Blue Tees Golf
Bluetooth GPS speakers are all the rage right now and having tried several I'll admit they've helped. But then I caught wind of the buzz building around Blue Tees Golf's tech-sessories—especially the 3 Max rangefinder, which has earned rave reviews—and early tests of the Player+ GPS Speaker are coming back unanimously positive.
What sets this model apart from other speakers, including those from the biggest name brands, is the touch screen display that shares the hole, its specs, and the golfer's distance all of which are helpful for those of us who typically just look at the pin, shrug, pull an iron out, and hope for the best. Basically, we are golfing at a time when there are more aids than ever, and companies like Blue Tees are not only helping us shlubs play so much better, but we get to listen to our best playlists while we do it.
Solis 5G Personal Hotspot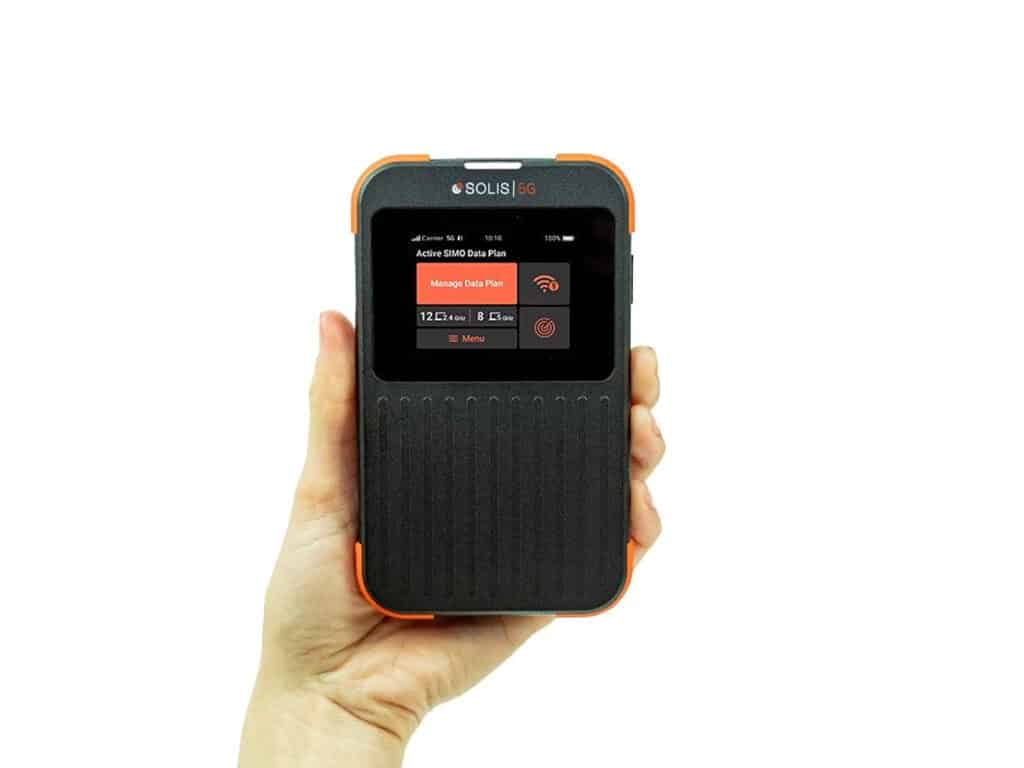 Solis
The Solis Lite Hotspot has long been a constant accessory in my carryon gear (and hurricane preparedness kit), and the first time that I realized just how important it is was when I was on Hole 4 at Quivira Los Cabos and I couldn't get a signal on my phone to save my life. That's bad news not only for whichever GPS device I'm using, but also for keeping my playlists bumping. But golf aside, having a portable hotspot will just make any getaway easier and safer.
Now, Solis has stepped it up with the 5G personal hotspot, so you can connect to the strongest available signal and enjoy faster speeds. Plus, the rugged design means it basically belongs in every adventurer's backpack, because you simply need to listen Enya when looking at the most beautiful waterfalls in the world (or Kenny Loggins when you're playing closest to the pin with the strangers you've been paired with at Teeth of the Dog).
Linksoul Low Tide Short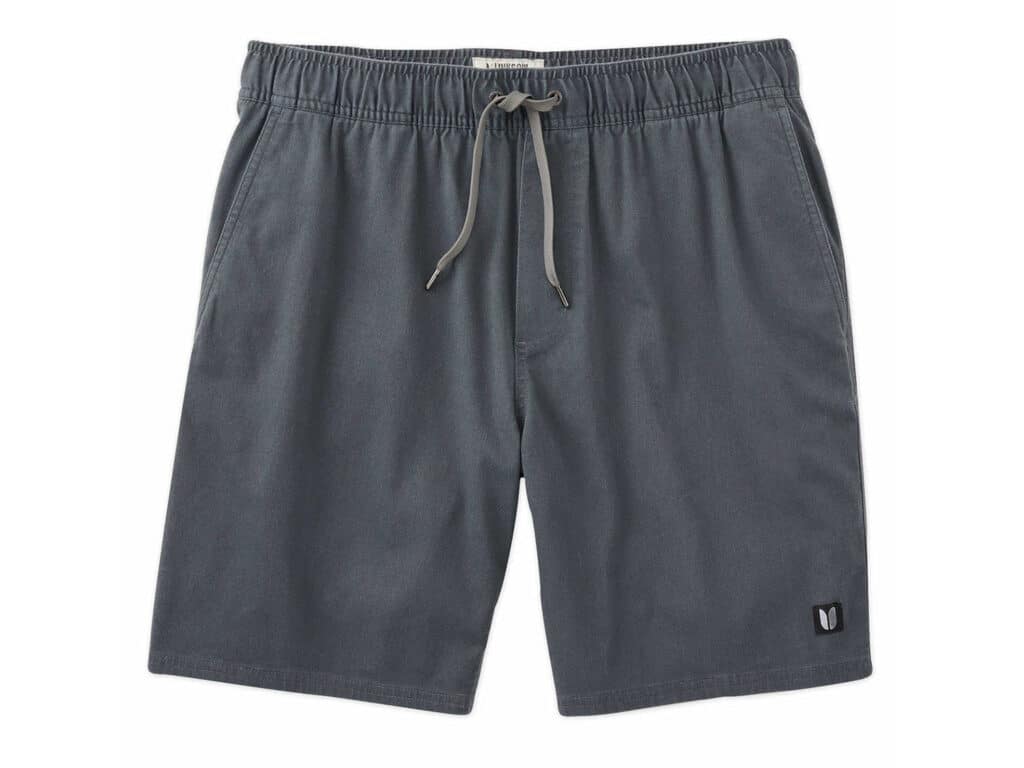 Linksoul
Are you really a golfer if you don't have a drawer filled with Linksoul shorts? That's a trick question, because you don't need to play to enjoy the immense comfort provided by this California company's gear. Like the True shoes (of which there has been a Linksoul collab that we'd love to see again), the Low Tide Shorts should be the preferred choice for minimalist travelers who want something that works for a variety of occasions.
With versatile colors, these shorts can go to the gym, beach, pool, trails, driving range, and probably even the airplane, so long as it's not on the return trip following those activities.
Birdie & Ace Racerback Polos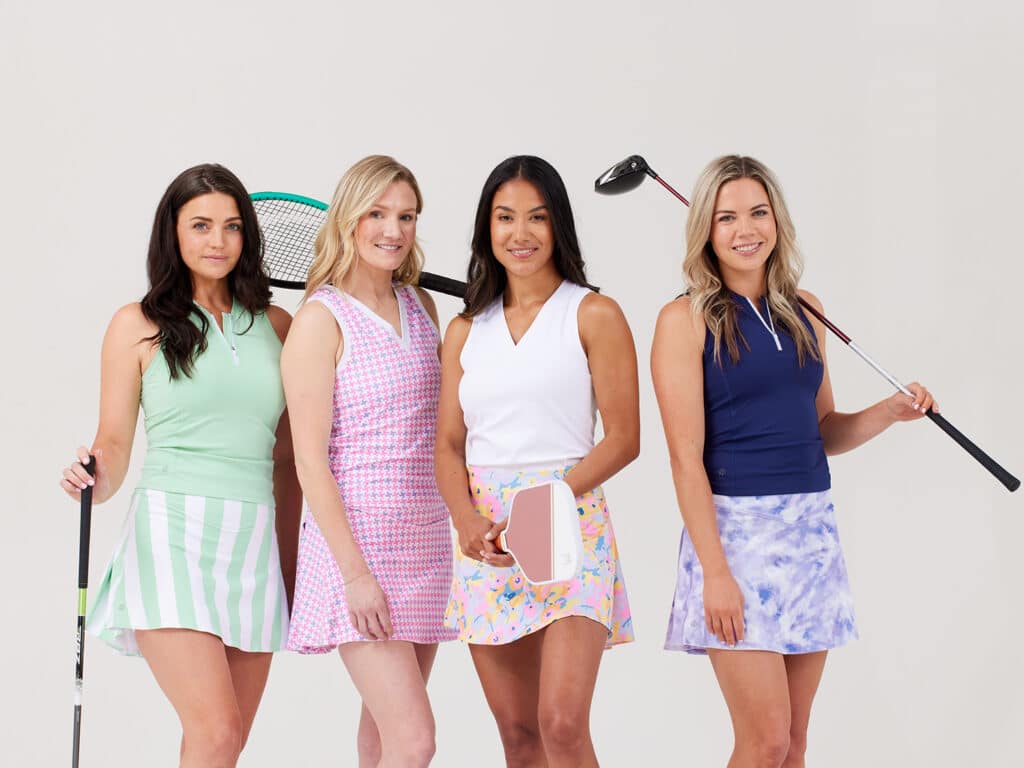 Birdie & Ace
Hot on the heels of the buzzworthy "skort" from this creative newer company comes the Racerback Polo, which is made with the same soft and durable performance material. Available in a variety of colors and patterns, the Racerback (and similar, equally fun V-Top) are ideal choices for women who not only play both golf and tennis—at home or on vacation—but also want to include a sense of style that has been lacking from golf apparel for a long time.
RIPIT Grips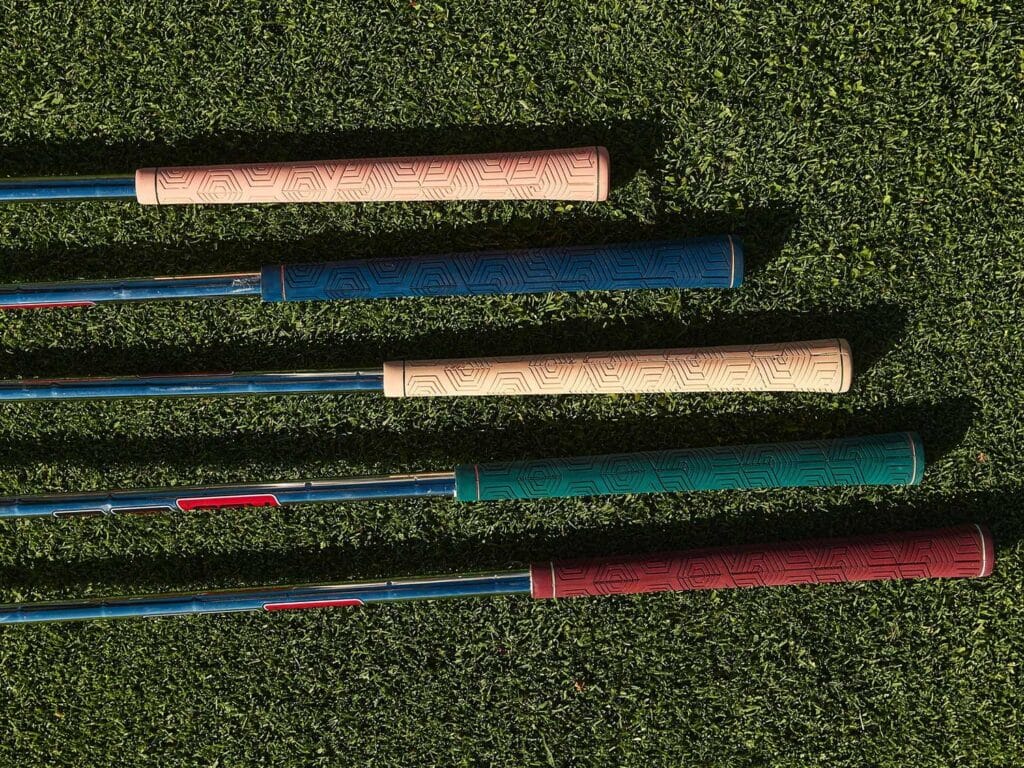 RIPIT Grips
Circling back to my Takomo irons, the only thing that other golfers and my instructors find more interesting than the clubs are the RIPIT Grips. In fact, when I was recently playing Teeth of the Dog at Casa de Campo in the Dominican Republic and I asked my caddie, Guillermo, for my 4-iron, he laughed with delight when he saw the peach-colored "Marilyn" grip. It instantly became a topic of discussion for the next two holes, and everyone in my foursome took turns examining my clubs.
Now, the Marilyn might be a little risqué for some golfers, but RIPIT Grips offers a variety of fun, creative styles, from the simple Geo and Suiggle patterns to the goofier Daily Diet and Bloody Ripper. Grab one of each and your clubs will instantly become the talk of the course. Unless, of course, your pal Boner puts his cart in the lake again.
The post Forget National Golf Month, Here's All the Gear You'll Need for a Fresh Fall on the Links appeared first on Islands.